16.07.2020
DEPALETIZER OF NEW BOTTLES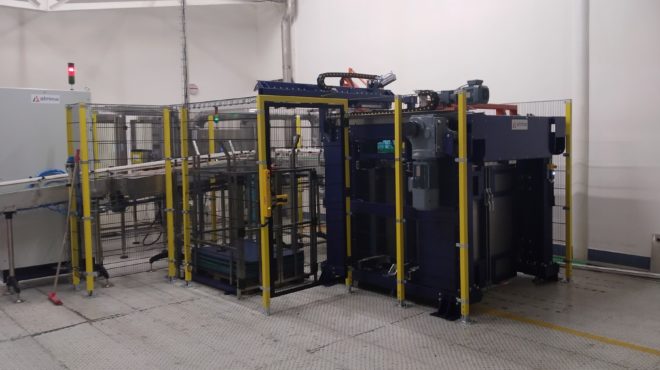 WE ARE BRINGING a new bottle depalletizer with a modular conveyor, an interlayer sensor and a sorting table.
ADVANTAGES: Massive construction, gentle handling, modular system, space saving


Basic description

Depalletizer of new bottles for milk 0.75 liters, including automatic departure  to  labeling machine and sensor of Interlayers.
Guaranteed equipment performance
4000 bottles
Handled goods – dimensions, weights
Bottle 0.75 ml glass. Bottle height 213 mm, bottle diameter 83 mm, weight 300 g.

Pallet weight 250 kg. EUR palette

Number of products per layer
Bottles – 135
Number of layers
5
Interlayer – size, number and location on the pallet
The upper lid from the paper, the rest of the flat interlayers
Pallet – type, size, max. height, orientation
EUR Palette 1200 x 800 x 1230 mm.